Good morning!  I am so excited about this new series I will be doing!!
I am joining the Nester's 31 Days of Change.
If you are a fan of my facebook page, you already got a sneak peak on what I am posting about during the 31 days of October!
  I love giving my facebook fans my daily updates!
In case you didn't know, I am a Certified Personal Trainer and have been for 8 years.  I love helping people get healthy and lose weight!  When I started this blog, I talked a lot about cleaning, decorating and organizing (and I will continue to do that) but I have been really wanting to add more posts about my other loves- health, fitness, nutrition and weight loss! 
I am very passionate about nutrition and I am constantly reading books and talking about it with others.   That is another reason why I love being a Shaklee Distributor, I help people get healthier everyday!
So, I will be posting a health tip everyday for 31 days and I am so excited!!
I already have a list of tips/topics to post about but I would love to hear what you want to know about. 
What health questions do you have for me?
I can't guarantee that I will answer all of them but I will try!  I am really passionate about this!
Please feel free to grab a button for your blog so other blogger can come here for their daily health tips!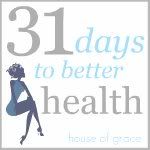 Also,  I just joined twitter.  I know… finally, right?   You can follow me at bonniedonahue.  This is exciting for me, so please follow, lol!
Last thing…
Please subscribe to my blog so you don't miss a health tip or any other post!
Thanks!
Have a great weekend!